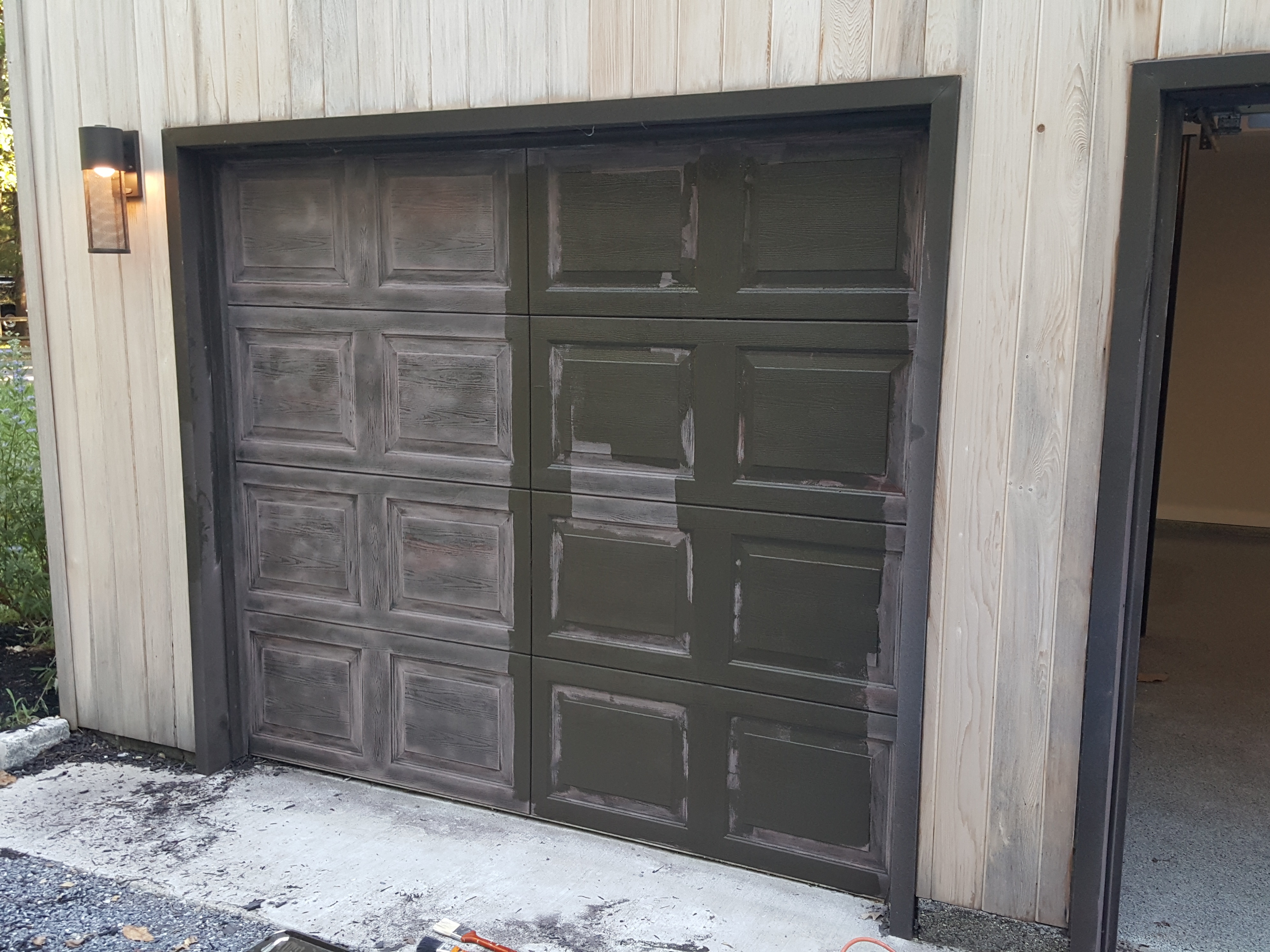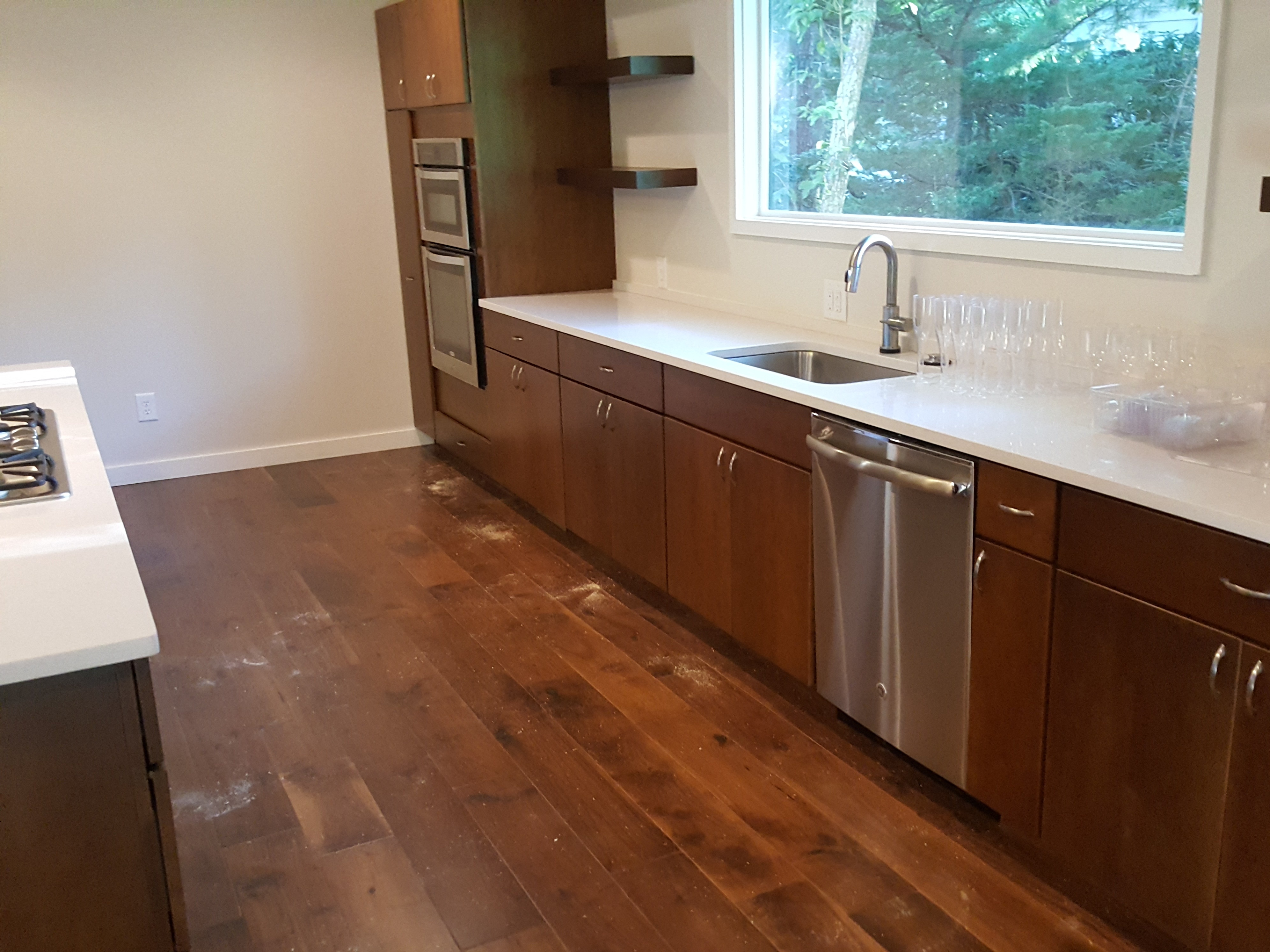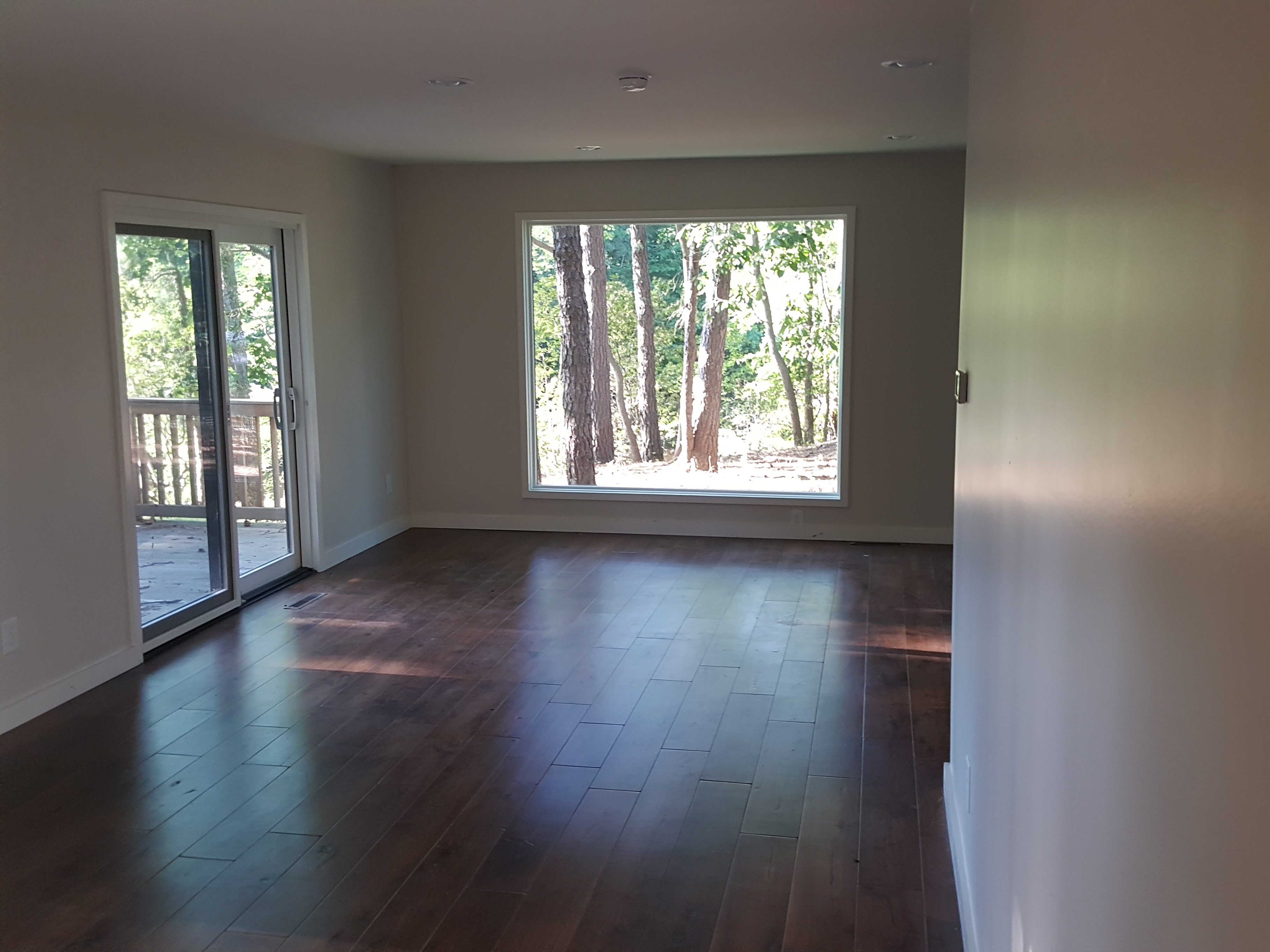 New Jersey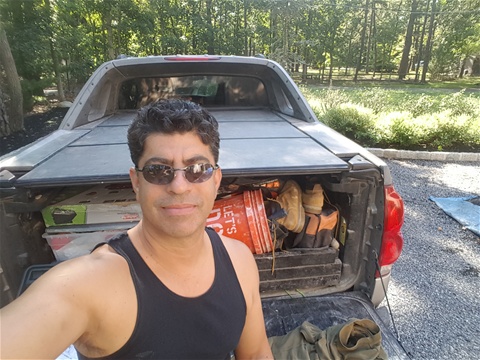 Hello friends,
I hope all are well and resting for the day's work or activities. This is my official New Jersey gig which I completed yesterday, Sunday, in Medford, New Jersey. As you know I have been staying and working in the Philadelphia, Pennsylvania area for a couple of weeks now. With New jersey just across the river, I had been trying to score a gig on the weekends while I spent the work week with Chris. And as it turned out, he was the source of acquiring this gig as well.
On Friday afternoon I began my search for a job on the CL. He told me he had a client in Medford who needed a punch list completed with their home, in order to ready it for the real estate market. He asked me if I was interested in doing the work, and if it wasn't too far for me to travel the 150 mile round trip to my campsite. After driving more than eight thousand miles since May, the buck and a half trip seemed like a skip and a jump away! Besides I could dovetail it into my N.J. gig, since I did find him on the CL. He gave me the address and a Sunday morning start time.
I arrived at the custom built home ready to knock out the list. The weather was fair, but I had already got used to the cool Pennsylvania air, especially up in the camp grounds hillside. That New Jersey swamp like climate this time of year, hot and sweaty, is not my idea of nice weather. The home was vacant but the AC was turned off, so there would be no air circulation. The list consisted of patching some drywall, fixing two doors, fixing some siding and a gutter down spout, installing hardware in the kitchen and bath cabinets and finally painting some water damage walls and two garage doors. Yucky! I hate painting!
So I proceeded to punch the punch list. But first I set my phone music play list to Alt nation, Bluetoothed my speaker and grabbed leftover bag of popcorn from Saturday's movie, (The Mechanic) and went to work. I wanted to finish in one day, so that I wouldn't have to return. The outside items, door repairs and drywall patching went fast, but the cabinet hardware was a bear. It is tedious work and has very little margin of error. Still I dinged one of the drawers in the kitchen. My bad!
By four o'clock I was done with everything but the paint. Tired, hot and soaked in sweat form the lack of ventilation in the house, I began to sand the metal garage doors for the new coat of fresh paint. I hurried through the final task as my tummy grumbled with hunger pangs and my dogs barked with pain! There was no running water outside for cleaning my tools and paint accessories and I did not want to soil the house, so I used the adjacent pond to wash them, hoping the neighbors didn't see! Man's got to do what a man's got to do sometimes. At seven pm I was loaded and ready to head back to my Pennsylvania campsite. My tent never felt so good once I crawled in after dinner and a shower. I was exhausted but happy I was able to knock out another state off the gigs list, thanks to Chris.
This time next week I will be in New England!
Thanks, Juanjohn
Pennsylvania
Hello Friends,
This is my official state of Pennsylvania Gig. It took a while to post the story, simply because I worked on this job all week. This is how it came about.
After leaving Delaware last Saturday, I landed just a few miles east in the Cherry Hill area of the New Jersey side of the Delaware River. From the Public Library I began my search for a job in both Philadelphia and New Jersey. After putting out multiple requests on the CL of both states, I got a response later that evening for a remodeling job via email. Chris, the poster inquired what my skill sets were, something I normally get asked, and I responded with a list of abilities. He agreed to meet me on Monday and to test me out for the day.
After laying low on Sunday, I showed up bright and early on Monday morning. Unfortunately I didn't get much rest the night before, having to settle for another nights sleep in my truck at the TA truck stop. I was tired but I didn't want to show it. Chris, a young general contractor put out the call, hoping to gather a few workers for the abundance of work he has on the schedule. But as it turned, only I and another skilled guy named Tony showed up for the gig. Chris walked us through the three story remodel and formulated a plan for the next few days.
After a full week of much needed and well paid work, I was able to put my multiple skills to work! I laid tile the first day and finished a small deck the second. On Wednesday he took us to another ongoing project, a few miles away there in north Philly. There we installed nine new windows and reframed one of the openings in the ninety year old house. On Thursday we returned back to the original dwelling, where I spent the day grouting and painting. Finally today I used my finishing skills to install a set of new kitchen cabinets. The week went fast as I enjoyed doing an array of projects and working most of the week inside. It gave me a much needed rest from the sun and humidity.
Chris, originally from Oklahoma and now resettled here in Philly, is a quiet and laid back fellow. I think he was glad we made contact and I guess was okay with my work, since he kept me working all week! I of course, was thrilled to be hired and let loose on my own. I quickly gained his trust with my abilities and I in his. He certainly has plenty of knowledge and can do a lot of different trades himself. He told me he has plenty of work and I am welcome to stay as long as I want. I just might this time. These types of gigs don't come my way too often.
I will stay in the area this weekend and search for my Jersey gig, hoping I can find one soon. Philadelphia has been a joy to visit and work in, so I will work for Chris a few more days. I will also write my behind the scene story on my blog page tomorrow!
Thanks for your support and encouragement as I move forward!
Juanjohn
Delaware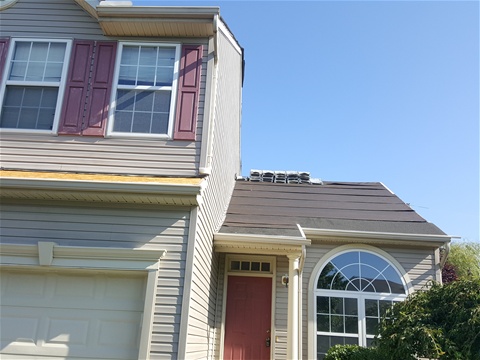 Hello friends,
Hope fully you are enjoying your Saturday afternoon, wherever you call home. This is my official Delaware gig post, finally coming together after a couple topsy-turvy days.
After arriving in the area on Tuesday afternoon, and camping in Coatesville, Pa. I came across the river to Delaware. After searching all day Wednesday in the three states I had mentioned earlier, Pennsylvania, Delaware and New Jersey, I ended up at the Pilot Truck stop for the night. After a few fruitless email and text exchanges I still hadn't secured anything for the next day. At seven pm I texted a poster looking for help with a roofing gig. Not on the top of my list as jobs go, but I am not in the position to be picky anymore. I now am in full survival mode, with all my resources all depleted.
Eric, the poster asked if I was a roofer per say, and I told him I was a tradesman with some roofing experience. That was good enough for him and he asked me to show up the next morning at 8 am in nearby Bear. I figured I could at least work as a helper, anything at this point to earn some money. Little did I realize the gig would be a bit more challenging than I could have anticipated and that the weather would once again play a factor in the story.
Eric and his associate Josh stay busy with different projects and this one was a complete reroofing job on a two story house. The gig was to remove the old shingle asphalt roof and replace it with a new one. Now I have done some roofing jobs myself over the years, back in Arizona, but never on a house with a steep pitch! My knees wobbled a bit when I drove up and saw the home Thursday morning. I met with the rest of his crew, Dustin, Malik, Josh, and Doug. Josh gave us some instructions as he left to get supplies. Eric was on his way as the four of us began to demo the old roof. Now I'm not afraid of heights but the slope on this style of homes here was a bit much for my fifty four year old nerves! I'm not lying friends, I was afraid of falling! The flat and less sloped roofs from back home never caused me any fear or anxiety, but this situation that I found myself in was testing my intestinal fortitude. Under other circumstances I would have begged off the project and found me a hole to dig or a brick to lay, but I don't have the option right now to walk away from anything. Besides I felt my macho, manhood card being called up to the plate! So I sucked it up all day ,silently praying that I would not be writing this post from the ER or hospital.
On top of that, this heat wave continues to follow me from every state it seems. To make matters worse, the sweat and exposure was getting the best of us all. I tip my hat to the guys who have to work under these conditions day after day in the full exposed sun, rain and wind. Roofers and framers to name a few. By 4 pm we had almost all the old removed and felted the sheathing. During the breaks Eric and I chatted about work and I took the time to explain to him about my unique tour. The decals on my window usually draw curious comments about my adventure. Eric, like most people who are in the trades business, found my journey intriguing. I passed out my cards to the rest of the crew and told them I would be writing about our experience at the end. They now would be a link in the chain, which I hope extends to fifty! I also got bold and asked the boss if I could sleep on the property over night to watch over the tools and in turn save me some money by not paying for a campsite. He agreed! The project was slated for two, maybe three days, assuming the weather cooperated. It didn't.
Unfortunately the rain chances increased Friday, so we were postponed until Saturday. Then Josh's expectant wife went into labor last night and again we were delayed. He after all was the lead man with the project. So in the end I only ended up working 12 hours total the two and a half days there. The good news is that now Delaware is off the list and I'm in Trenton, New Jersey searching for my next gig!
Eric, as this journey continues, was super with me all through the experience. A young 27 years of age, younger than my own kids, he asked me many questions about my tour. He went right to the site that first day and encouraged me to continue forward.
The world is your oyster at that age and he seems poised to grow and expand his business. With his attitude and people skills, he'll do well. He was generous with my pay, advanced me a few bucks and bought the Johnny Man lunch! That goes a long way to help a man on a survival tour! Best of luck to him, Josh, Barry, who I met today and the other three guys I worked with in this fine state of Delaware!
Good people are everywhere, I can attest to that. Now on to my next adventure!
Maryland
Hello friends.
This is my official Maryland gig. Finally! This was the most time I have spent on any single state trying to score a job. The frustrating part about it was that there are plenty of CL postings, but I just couldn't nail one down for one reason or another. I come really close a few times, but in the long run it was definitely worth the wait. For once again I ended up meeting and working for a super great guy!
This is how it developed. Last week I responded to an ad for help with repairing a porch. It stated a time frame of four hours and a set wage, which is rare in most postings. Usually the rate is TBD or negotiable. Well I didn't get an answer right away. In fact I had totally forgotten all about it, focusing on other subsequent postings. Then on Wednesday night, five days after I emailed him, he responded. He asked if I was still interested in the job, and that I would need to be in Darnestown, Md. the next day. I enthusiastically responded yes! Even thought I was three and a half hours away in Virginia.
The next morning I bid my family goodbye and headed north for Maryland. Russ, the gentleman who hired me, instructed me to arrive at noon. The timing was perfect, for the D.C. commute into the capital area is heavy. I showed up a little early to find Russ already there setting up the job. The gig was to repair and wooden breezeway leading to a shed section of the home. We inspected the task and then headed out together to the nearby Loews to purchase the needed materials. I instantly felt comfortable with Russ and his friendly, outgoing manner. We chatted a bit about my situation and it was then that I explained to him my tour. He was happy to be a part of the adventure and another link in the chain.
Russ is a native to the region, a retired economics professor and army retiree. He also spent some time in Arizona himself, back in the day. He still has relatives in the Phoenix area. He also has traveled to over thirty different countries in his lifetime. He is enjoying his retirement and devotes much of his time working on different projects, including auto mechanics, one of his favorite trades. Russ also enjoys just helping friends and relatives out for free. With whatever dilemma they might have. He figures it's his way of helping people in need. He is giving back to humanity, one job at a time. Wow! How many do that.
The job went smoothly as we worked well together. The climate was finally pleasant for a change. The homeowner was pleased with the results and Russ and I had a great time conversing about many things. It is amazing how much one can learn about another in such a short period of time. In the end the job took barley three hours to complete and I hardly broke a sweat! He paid me the half day despite falling short an hour, a very generous gesture on his part! I was really humbled when he said that he had received dozens of response to his ad, and for some reason he chose me. He couldn't explain why, but he was glad he did. Not as much as I was, that you can believe! We took our picture and he signed my map to make it official.
Once again, I came away feeling blessed to have been able to work for such a wonderful person. Russ has had a great life and continues to enjoy the world around him in his retirement. I was fortunate to have shared a few hours in his presences. Lucky for me!
Now on to Delaware and New Jersey!
DC Done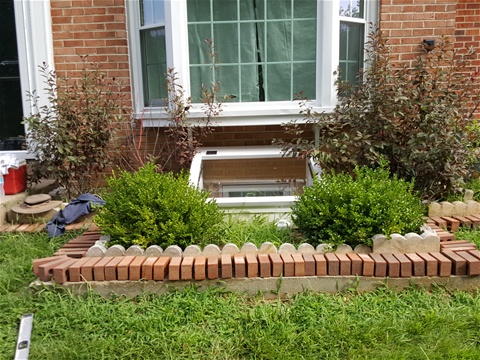 Hello Friends,
After four days in the area, I can finally write you about my official D.C. job. I worked it Tuesday thru Friday of this week and here is how it came about. Although the work was right outside the District of Columbia, I did find it on the Washington DC craigslist. I do have to say that so far, no two gigs have been the exact same. The work its self is usually similar, but the way they come together and end up, are the amazing part for me. That being said, this gig was unique in a few ways, at least up to this point!
Last week I was in Newport News, Va., keeping an eye on Nearby DC and Maryland CLs. On Sunday I sent an inquiry for an ad looking for a Mason. I sent my email and within a few hours it was answered. I already had my Virginia gig set up for Monday and after a brief conversation with Shawn, we made arrangements to meet Tuesday morning. After finishing my moving job late night in Yorktown, I drove back to cousin Fina's home for a couple hours of sleep. At four a.m. I packed my stuff and headed north for the Capital, two and a half hours away! The traffic is heavy going into the District region and I was still tired from the move. Nothing a tall cup of coffee and a couple donuts couldn't fix! I met Shawn P. at a 7-11 and then followed him to the remodeled home under construction.
The home is being upgraded inside and out, in a multi floored, community complex, which seem abundant in this part of the world. The job consisted of finishing a couple of front yard brick planters and a little drainage work. Items I'm very familiar with and enjoy doing from time to time.
Shawn asked me how long I would be in town for and if I would consider additional work. I had previously told him over the phone that I would be in town for about a week, that's why he asked. It was then that I disclosed my journey to him and the reason for my short stay in every state. After explaining to me a few details about the work, he departed and I got busy.
As the day passed, I pondered whether to take on any more remodeling work. $12 an hour isn't much for skilled work and the area is definitely an expensive one I thought. I took the gig to secure the state for the tour, but I really wanted to keep looking for something that might pay more. Or just move on to Maryland. When Shawn returned a few hours later, he had already visited this website and was impressed with my adventure. We had a great conversation about my tour, and then offered to buy me lunch. I immediately felt comfortable with his pleasant and friendly personality. Shawn, an engineer, knows plenty about the trades and about the remolding and construction world. As the day was winding down, he asked me what I had decided about more work and what my plans for lodging were. I told him I had reserved a campsite nearby and that I would be willing to work one more day.
At that point he informed me that he was seeking for me to spend the night there in the house we were working on. He offered it to me as an alternative to camping or truck stop parking lots. What a great opportunity for me, and a good deed from him. Yes! I said. At that point the pay became irrelevant, since he was going to save me fifty or sixty dollars a night. It was a no-brainer then to refuse any more work from this gentleman.
We worked together the next three days. Shawn and I talked, laughed and worked hard, inside and out. I spent three nights in an upstairs empty, bare floored bedroom, but it felt like the Hilton Inn! After sleeping too many nights in the hot and bug ridden campgrounds, this was surely an awesome gesture by this man. And well appreciated by me. He also helped me reason with my struggles of late with the stress and fatigue of the tour. It still amazes how quickly we clicked. Like two old friends! But actually, were just new friends! And the best thing about him is that he treats all people the same way, all the time. I could tell.
In the end, he paid me my last day and wished me continued success on my journey. Unfortunately Shawn was I bit camera shy and wouldn't pose for my tour picture, but he did sign my official map and said he would follow my adventure! I come away humbled and grateful for the way this person went out of his way to feed me, accommodate me and more importantly treated me. Coming off my Virginia experience, this was just what I needed at just the right time.
Now on to Maryland.
Thanks for your support friends and family.
Juanjohn
DC is done!
Hello friends,
I write you this evening from the nation's capital, Washington DC. I hope you are doing well wherever you call home. This is my official Virginia gig for this tour. It came late last night in Yorktown, Va. I worked all day here in the DC area, so it's my excuse for the delay.
I would have to say that this gig was a strange one, and at times quite frustrating. For one, I was in the state for almost a week before I was able to score a job. Not that there aren't any available, there were plenty, I just couldn't get the right one for me. There are way too many postings for full or part time jobs, of which I am not able to aquire for this tour. Still I continued to search every day as I helped the cousins with their projects.
On Sunday I saw a new ad for a crew to help with a move in nearby Yorktown. I figured a gig like that, usually consisting of a few hours would be a good job, avoiding the prospect of working all day in this heatwave. I sent out the inquiry and got almost immediate response via email. The poster asked for my number and sent me a text informing me of the gig time Monday afternoon. He said he would send me the address in the morning. 12-2pm $15 an hour cash. 3-4 hours. Perfect, I thought.
By eleven I still hadn't heard anything. I messaged him and asked if we were still on. He apologized and sent the address with a 2pm start. At 2pm. I was heading out the door when he texted me and told me that they were stuck in traffic, so for me to show up at five instead. Normally I would have been irked, but reasoning the later the better, to avoid the hottest part of the day. Also my challenge is not to let these things get under my skin, with this tour. I have enough to deal with, without the actual gigs stressing me out. My patients would be tested.
I arrived at the location 15 minutes late, only to find the trucks had not yet arrived. The client informed me that they would be still another hour delayed. Two other helpers like myself, Antwone and Christopher, were already waiting inside, as the homeowner brought me in. The house was mostly packed and ready to go, all we needed was a truck.
Finally at 7:23 pm the first truck showed up. I was anxious by then, having already committed to my DC gig three hours away the next morning. I figured we would be done by ten or so, between five of us. Wishful thinking. Minutes later the second truck arrived. The two drivers are brothers, who apparently run the independent moving business. So after inventory lists and contract signings, we were ready to go. The first items didn't enter the vehicle until 8:25.
Now normally this event would end with a feel good story and my routine picture at the end. That has been my experience so far with this adventure. But there was no hugs and no fuzzy and warm exchanges. I guess this was just a job. For the first time I felt like what I just was, a hired hand. I did enjoy working with the other two fellas, Antwone and Chris. We busted our butts to get done quickly.
But for me, and I have to tell you all sides of my experiences, these two guys who hired us, didn't have the most friendliness personalities. Cold, distant and a bit coincided, I quickly read their M.O. it was all about the move, no time or interest in friendly conversations or personal interest stories. Usually with my gigs I get comfortable with everyone and then work my adventure into the conversation. Which then leads to eventually an even broader exchange of information. That level was never reached with these guys. I just kept my head down and my trap shut, which is hard for me to do! They never knew about my tour.
At 11:17 pm we were done. Tired and hungry. We were paid the promised wages and even got a ten dollar tip and a thank you. Still I came away a bit disappointed that I did not get a picture or a signature for the record. I suppose I shouldn't be too hard on these guys, after all I should be happy for the opportunity to put Virginia on the done list. Nor should I expect everyone else to get all excited about the Gigs tour, like me. I was able to get a bit of time with both my crewmen about my tour and handed them a card about my website.
Well friends, that's all for now, stay safe and thanks for your support.
Juanjohn
Virginia finally done!
Hello friends,
This is my official West Virginia gig, which I accomplished on Monday. It happened so fast that I was only in the state for twenty hours. So this is how it went down!
After finishing up in Charlotte with the Solomons Sunday noon, I got gas and a burger and headed for Roanoke, Virginia. My strategy was to centralize my position to be able to knock out either of the Virginias. As I sat and ate my Arby's, I saw a ad posted in Morgantown, WV. for Monday. I sent out an email immediately, knowing that the postings in the state are few. I really wanted to get W.V under my belt, so I could then head east for the cluster of states in the DC area.
I got in town and looked for something in Roanoke, for a back up plan. I decided to go watch a movie in stead of hanging out at the local park again. When the movie ended, 'Central Intelligence', terrible movie by the way, I began looking for a place to sleep. At seven thirty the phone rang and I was on my way to Morgantown, five hours away!
After sleeping in my truck, again, for three hours, I showered at the travel center and reported to work at the Waterfront Place Hotel. The gig was to remove all the furnishings from the seventh story high-rise and load them on to a couple of waiting semi trucks. A one day, $12 an hour, butt busting gig. Ten other local guys and gals were picked for the job.
Patrick D. was the man in charge of the project. After a few details and assigning people to different task. Yours truly was in charge of the more lighter chores, like removing pictures and wrapping the furniture. After all, I was the old man of the gang! Everything had to be dismantled and carted down the elevators to the loading dock. The best part of the job was the air conditioned rooms, saving me once again from the heat out side.
We were fed pizza for lunch, along with plenty of drinks. Mr. Patrick was a fine coordinator and very easy going. It can be challenging to manage eleven perfect strangers, along with battling other trades and deadlines. The job had to be completed that day. But he pulled it off like a pro!
After eleven hours everything was out of the hotel and in the truck. Then it was time to get paid. It was already seven pm. when he handed out checks and thank yous to everyone. I patiently waited for the last person to leave so I could explain to him my tour and ask him to sign my map and take a pic for the website. Patrick happily agreed and even offered me the opportunity to shower in his hotel room before I hit the road. That was awesome of him! He was fascinated with my adventure and was honored to be a part of it. Add another friend to my growing list!
My only regret about West Virginia was that I didn't get a chance to see the state and all its natural beauty. Since I drove in at night and left in the evening I saw very little, except for a nice sunset as I was filling up my tank. I did however enjoy some fellowship with most of the guys and girl I spent the day with. They were all good people, just trying to earn a few dollars anyway they could. Just like me.
Thanks for your precious time and well appreciated support. Now on to the other Virginia!